Fresh & healthy start of the morning
Fresh and healthy start of mornings is the backbone of the day. Your morning start decides how your day gonna be. If mornings are properly planned, then the day can be miraculously damn good. So let me focus on how the small changes in the mornings can recharge your day and fill you with positivity. So change your mornings and see the world change for you. In this piece of writing, I am going to focus on how you can start your mornings on a fresh note. Also, small changes in morning habits can make up your day. Let me first focus on how the mornings must be kicked up.
HOW TO KICKSTART THE MORNINGS–

You open your eyes and it is morning. No, my dear friends. Open your eyes with hope, positivity, feeling of freshness and good thoughts. Now I will focus on some tips that must be followed regularly each day and to make the mornings more beautiful.
1)Wake up early in the morning-The The health benefits of waking up at 4 am and 5 am are miraculous. If you wake up early in the morning you get enough Me time. The other reason is that the air is more fresh early morning. So fill your lungs with fresh air by waking up at the earliest. The sunrise fills you with immense energy. Waking up before sunrise gives you amazing health benefits.

2)Feel the freshness, feel the start-When you open your eyes in the morning, wake up with the feeling of the start of new life. The morning time is the base of the day. How you will shape it, it will shape your day. So start the day with a positive note. This day is the other opportunity to pursue the tasks in hand, pursuing the dreams and start of a new journey of life. We are lucky enough to open our eyes for a big day that is today.
3) Stay in bed for 5 minutes
After waking do not rush to come out of bed in a hurry. Touch your closed eyes with hands. Sit relaxed. Feel the start. Do not rush for tasks that are already in your agenda. Start the day on a peaceful and happy note.

4)Morning prayers- Say thank God for another day. You are happy for the blessings of the Lord. Your day is incomplete without God's grace. Fold your hands, close your eyes and pray to God to give your life a beautiful start with a good start of the day. Many studies have shown those mornings can be the perfect time of prayers.

5)Plan your day-It is good to start the day with proper planning of the day. If you schedule your routine properly, things will be easier to manage which will help to avoid the confusion and hustles of the daily chores. So it is good to start the day with all your priorities first so that the things are sorted in the latter part of the day.

6)Start the day with hope-
Start your day with a positive note and positive thoughts. Think about all the good things like love, health, optimism, and gratitude. It is the start of another beautiful day. A new day brings new hopes. Try to be happier and active in every way.
7)Green start- Yes, you heard it right. If you are a nature lover, then try to start your day with plants, greenery which is a treat for eyes. Take a walk on the green grass. See the blossoming flowers. Nature brings joy and happiness and staying close to nature fills you with immense satisfaction, happiness and joy and also a healthy and beautiful start of the day. So stay close to nature. Nurture your gardening habits. If you have a kitchen garden spend some time there and see nature growing and flourishing.
So the sum and substance of the above discussion is that-
IF WE ARE VIBRATING ON LOW FREQUENCY IN THE MORNING, then the negative emotions like anger, jealousy, fear, etc will rule us and trouble us the whole day.
IF WE ARE VIBRATING ON HIGH FREQUENCY IN THE MORNING, then positive thoughts, positive emotions, and vibrations will accompany high energy levels. So it is better to start the day with a good and positive note.
DO THESE SMALL CHANGES IN THE MORNING TO MAKE THE DAY BRIGHTER–
Now I am going to focus on what are the small changes that you can follow in your morning routine to make the day more sorted and happier. A list of these small changes is as follows-
a)No phone or other electronic devices– If you are used to phoning and searching for the device immediately after waking up, change this habit. The radiation may affect our bodies. Don't be a slave of technology. These days man is as fast as a machine. Any device is to add to our convenience not to cause inconvenience to our lives. If you are a tech-savvy, try not to touch the phone at least one hour after waking up. Through regular practice, this will become a habit. Try to follow. It's not that much tough too. So try to follow no-phone rule immediately after waking up in the morning.

b)No intake of caffeine
Well, if you are fond of having tea and coffee try not to consume immediately after waking up. The caffeine is not good for our nerves and tissues. More use of tea and coffee in the early morning will fill your stomach and your appetite will also be adversely affected. Instead, drink 2-3 glasses of normal water. You can also take lukewarm water added with honey and lemon. It will give you a fresh taste and feel. So try to avoid tea/coffee. Try it slowly and then you will become used to it. It will also help in healthy weight management. You can also try green tea or herbal tea as an option which is good for the stomach too.
c)Meditation– Meditation is the key to a happier and healthier life. Wake up early in the morning. Sit on a mat on the green grass. Sit peacefully and close your eyes. Concentrate. Forget everything. Take positive things and emotions in mind. It will curb your negative energy and emotions. Through regular practice, you will become stress-free. Try it for at least 15 minutes. Meditation does miracles. It makes you happier and healthier. Early morning meditations in the lap of nature fill the soul with purity, happiness and satisfaction and immense energy levels.

d)Stretching and other light exercises
After waking up in the morning do some stretching. It is the way to tell your body to alarm its time to get active. All you need to do is stretch your arms and legs. Take the hands up and stretch for a minute. Then do proper stretching of the legs too for a minute. It will regulate the blood in the full body and help you to be more active and fit. Likewise, you can also do some light exercises such as jogging, brisk walking, running, and yoga poses like Surya Namaskar which helps the nerves and body to vibrate the day with a positive note. So stretching helps to regulate and circulate the proper flow of blood in the body which gives a healthy glow to your skin.

So, my dear friends, I hope after reading this piece of writing you must follow the proper morning regimen and try to follow some changes which I have discussed. Believe me, your morning transformations will transform your day as well as life in the long-run. So do a fresh and healthy start of the morning with a positive note
Author: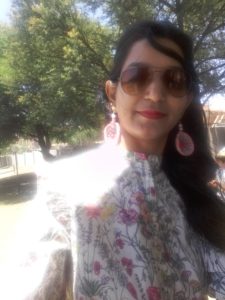 Sunita Panwar(Neetu) is living in Noida. She did her BBA(Bachelors in Business Administration) and MBA(Finance)from Kurukshetra University, Kurukshetra. Sunitahas also studied Journalism and Mass Communications. She had been in South Africa for 5 years. Writing is her passion. Health, fitness, and nutrition always has been her areas of interest. She has been writing blogs for some magazines and websites too. Authentic and interesting topics are what you are gonna read in the near future.