7 Amazing Health Benefits Of Greek Salad
Greek salad is one of the most nutritious and health-friendly foods to eat in the whole world. As the name suggests, it was originally invented in Greece, but now it's very popular among people on a global scale. Greek salad comes with important nutrients like vitamins, minerals, proteins, omega-3 fatty acids, antioxidants, and healthy fats, etc. All these essential nutrients are very effective in keeping the body & mind healthy always. Moreover, you can eat it daily because it is a low-calorie food with immense nutrition. Thus, we have prepared a list of 7 amazing health benefits of Greek salad in accordance with its ingredients.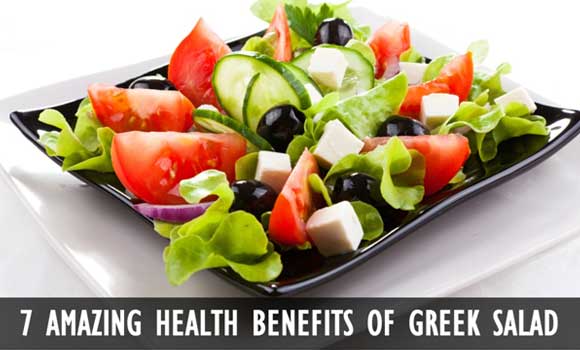 Here are the main ingredients you need to prepare a Greek salad.
Tomatoes
Onions
Oregano
Cucumbers
Olives
Olive Oil
Feta Cheese
Greek salad health benefits
Greek salad ingredients benefits
Tomatoes – According to various medical studies, Tomato is one of the healthiest vegetables to consume. Tomatoes has vitamin C, folic acid, folic acid, antioxidant (lycopene), and vitamin K. All these elements help in protecting you from heart disorders, strokes, cancer, and skin problems.
Onions – Onions offer a wide range of health benefits as they contain various essential nutrients. Onions are a great source of vitamin C, calcium, iron, folic acid, protein, dietary fiber, magnesium, potassium, and antioxidants. Thus, it helps in protecting the body against cancer, heart disorders, diabetes, and bacterial infections. Furthermore, it also helps in boosting the digestion and bone strength greatly.
Oregano – Oregano is another incredible ingredient that offers an immense number of health benefits. Oregano is has essential nutrients like dietary fiber and folic acid. It also contains vitamins (A, B6, C, E, & K) and minerals like potassium, calcium, manganese, copper, iron, and magnesium. These nutrients help in preventing infections, cancer, inflammation, health disorders, and cells that free radicals damage. Moreover, it helps in boosting digestion and weight loss.
Olive Oil – According to medical science, olive oil offers a lot of health benefits to you. Olive oil is a great source of antioxidants, monounsaturated fats, vitamins, and anti-inflammatory elements. Thus, it is very helpful in preventing bacterial infections, strokes, heart disorders, weight gain, diabetes, and cancer. Furthermore, it also helps in treating inflammation and Alzheimer's disease.
Other benefits of greek salad ingredients include
Olives – Olives are another incredible health-friendly ingredient of the Greek salad. Olives are a great source of vitamin E, polyunsaturated fats, and essential antioxidants. Various medical studies have proven the positive benefits of olives in the prevention of heart disorders, cancer, and osteoporosis.
Cucumber – Cucumber is a green vegetable with 95% of water content. It is a great source of fiber, vitamin A, vitamin C, potassium, vitamin K, magnesium, antioxidants, and manganese. Thus, it helps in improving digestion and metabolism to boost the weight loss process. Furthermore, cucumbers are very good for improving hydration, lowering blood sugar levels, and reducing cancer risk. Cucumber diet is very effective in losing weight.
Feta – Feta is a cheese that we get from the combination of sheep and goat, which contains essential nutrients. Feta is a great source of vitamins A, B-Complex, B6, and B12, along with minerals like iron, zinc, calcium, sodium, and phosphorus. Thus, it helps in preventing health problems like migraines, bone weakness, poor digestion, and poor metabolism. Moreover, it helps you to manage weight as it is low in calories and fats.
The Bottom Line
So these were the 7 amazing health benefits of Greek salad offered by its ingredients. By including it in your diet plan, you can not only manage your weight but also get an immense number of physical & psychological benefits. Also, you can add more nutrient-dense foods of your choice to your salad and increase its nutrition amount.