Foods For Beautiful & Healthy Skin
Beautiful & Healthy Skin
Everyone wants their skin to be healthy, flawless and young-looking always. Although, most people focus on cosmetics to make it happen, yet it is not the right way. The best way to keep your skin look & stay healthier is by changing your diet. Various healthy & nutritious foods can not only make your skin look beautiful but also slow down the skin aging process. On the other hand, poor eating habits can affect your skin negatively by making it look dull & old. To help you better, we have put together the list of best nutrition foods for healthy skin.

Food for healthy skin
Water – Drinking water is one of the most effective ways to keep your skin healthy & young always. Drinking enough water daily can help in preventing and treating several skin problems. Water can help in reducing puffiness, clearing acne, diminish pores, get rid of itchiness, and quicker healing. Along with this, it also helps in reducing wrinkles, improving skin tone, and slowing down aging. Therefore, it is very important to drink 3-4 liters to water every day.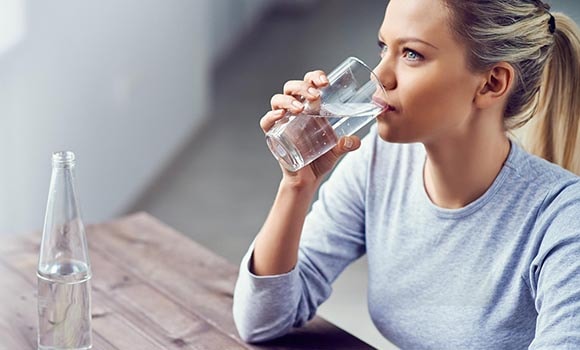 Broccoli – Broccoli is an amazing green vegetable filled with high amounts of nutrition & health benefits. Broccoli is rich in potassium, dietary fibers, vitamins (C, K), minerals, folic acid, and antioxidants. Consuming it regularly can help in improving skin texture and tone. Moreover, it helps in preventing skin disorders like inflammation, dryness, wrinkling, and skin cancer, etc. Thus, it is very important to include broccoli in your diet plan.

Fatty Fish
Fishes rich in omega-3 fatty acids are the most skin-friendly foods for everyone. The omega-3 fatty acids help in keeping the skin moisturized and soft. Moreover, these fishes are filled with nutrients like vitamins, minerals, antioxidants, proteins, and zinc. All these elements help in keeping the skin young, healthy, and glowing. Some of the best fatty fishes include salmon, sardine, mackerel, etc.

Tomatoes – Tomatoes are known for their immense health benefits, especially for the skin. They are rich in antioxidants, vitamins, potassium, folic acid, minerals, and dietary fibers. Tomatoes help in the reduction of pores, treat sunburns, cure acne, and improve skin glow. Moreover, these are very effective in preventing heart disorders, skin inflammations, and cancer. The best thing about tomatoes is that you can cook them in food or eat them as a salad.

Green Tea
Green tea is one of the health-friendly drinks in the world, loaded with nutrition and antioxidants. The tea offers an immense number of health benefits for the skin. Being an excellent antibacterial beverage, it helps in treating skin problems like pimples, large pores, and acne breakouts. Many medical studies have shown that it also helps in preventing skin cancer, inflammation, sunburns, and skin rash. Therefore, you need to consume green tea once or twice daily.

Avocado – Avocado is undoubtedly the king of fruits in terms of nutritional value and health benefits. Avocados are loaded with nutrients like minerals, vitamins, antioxidants, dietary fibers, choline, and potassium, etc. All these elements help in preventing health disorders like wrinkling, aging, inflammation, and dryness, etc. Avocados also aid in the prevention of various health issues like heart problems, cholesterol, cancer, and eye disorders, etc. Therefore, you need to include avocados in your healthy diet plan.

Walnuts
Walnuts are one of the most nutrient-dense foods among all the nuts. They are rich in omega-3 fatty acids, antioxidants, omega-6 fatty acids, and healthy fats. Apart from this, they are also loaded with zinc, iron, vitamins, calcium, and selenium. Eating walnuts can help in keeping your skin healthy and prevent skin disorders like inflammation. Thus, you need to consume walnuts as a snack or topping in your food dishes.

Dark Chocolate – Dark Chocolate works amazingly to keep your skin healthy, glowing, and fairer. The presence of cocoa helps in keeping the skin spotless, moisturized, removing blackheads and wrinkle-free. Dark chocolate is loaded with minerals and antioxidants, which help in protecting skin from inflammation & sunburn. Thus, you need to include it in your diet plan. However, make sure is that the cocoa content in the dark chocolate you eat is above 70%.

Papaya
Papaya is another great fruit that helps in protecting the skin and keeping it healthy. The fruit is rich in vitamins, dietary fiber, and antioxidants that help in preventing wrinkles and skin aging. Moreover, the phytonutrients and flavonoids help in preventing cell damage, while improving cell regeneration.

Olive Oil – Olive oil is a very effective solution for losing weight and keeping the skin healthier. It is enriched with antioxidants, healthy fats, vitamin E, and omega-3 fatty acids. Application and consumption of olive oil can help in slowing down skin aging. Furthermore, olive oil is great for moisturizing, exfoliating, and removing scars from the skin. Several studies have even shown that olive oil is effective in protecting skin from sunburns and skin cancer.

Almonds
Almond is another great dried fruit from the nuts family, which helps in keeping the skin look healthy and young always. Almonds are rich in Vitamin E, proteins, healthy fats, dietary fibers, magnesium, and antioxidants. All these elements help in protecting skin from UV rays and inflammation. Moreover, by applying pure almond oil or almond paste on your skin, you can make it supple & radiant. Therefore, you need to consume 5-10 almonds daily to keep your skin young & beautiful.

The Bottom Line
Well, these were the 15 best nutritious foods for beautiful and healthy skin. By adding these to your diet plan, you can easily have your flawless & young-looking skin. Feel free to comment below, if you have any questions or suggestions.